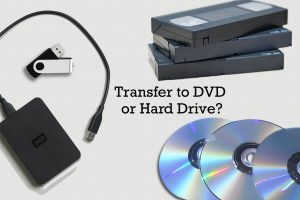 At AllYourMemoriesOnDVD.com we get asked this question a lot! And our answer is: it depends on your needs.
DVDs are for me!
Are you interested in getting rid of your bulky VHS or 8mm film collection but still want to watch your family videos all the way through? A DVD might be the best option for you. As long as you have a DVD player or a disk drive you will be able to play our DVDs. For a lot of older customers, we find a DVD works best especially if they are not comfortable with newer technology or they don't want to fuss with computers, compatibility issues, or software. Also DVDs are easy to mail and share with friends and family.
We find that we tend to watch family memories on DVD more often than files we have saved as backups on an archived hard drive. Another bit of advice: if you decide to preserve your memories on DVD it is a good idea to have an extra copy made in case your first copy gets scratched, lost, or otherwise damaged. Keep your extra copy in a safe and separate location for fire, flood, etc.
HARD DRIVE PLEASE!
There are a few good reasons to select the option of transferring your home movie memories to a hard drive or flash drive.
1) If you would like to edit your videos yourself you will want to get a flash drive. That way you can easily place the digital file into your editing program. It is best to have an editing program in mind before requesting a digital transfer to flash drive or hard drive because the editing program may only work with a certain kind of file. To save time and money, you can specify the file type you would like to receive when you drop off your videos for transfer.
2) If you would like to upload your video to YouTube or other video hosting site, or you would like to email your video file, a flash drive is a good option for you. Just keep in mind it can take a while to load large video files as attachments in email, and many video hosting sites (or free file sharing programs like DropBox) have weekly file size limits. If you have lots of videos to share you may want to consider ordering extra flash drives to mail to relatives and friends.
3) Hard drives are portable, easier to copy than DVDs, and pretty easy to use. Their size makes them a great space saver, and you can usually plug them into any computer with a USB port to access to your files(as long as the hard drive is formatted for the type of device: PC/Mac/or both). With a hard drive or a flash drive you can plug it into your computer, open it, and drag and drop your file onto the desktop (or desired internal drive, folder, etc.) and you will have made a copy of the file. Hard drives are pretty easy to use: you plug it in to your computer, double click the drive to open it, and select the file you want to view (as long as you have a video player installed on your computer your video file should start to play).
There is a third option, and it is one that we use for our own family memories: transfer to DVD and hard drive. We like to have back ups of our family memories so we archive our digital videos each year on a hard drive. We also keep DVDs on hand for sharing memories at special occasions or for watching when movie time comes and we feel a bit nostalgic. If you are anything like us you may like to keep a backup of your backup for your most precious memories in a separate location or in a cloud file storage system.
AllYourMemoriesOnDVD.com was invited to speak to the community about preserving home movie memories. In this segment, we answer questions about the different options for digitizing and storing your family videos including: DVD, Data DVD, Thumb drive, hard drives, and cloud storage.